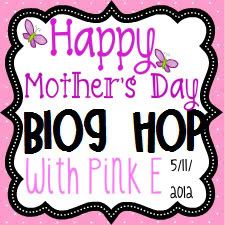 Hello Blogger Buddies, thank you so much for joining us for this super fun blog hop with all these wonderful talanted ladies.
If you have come here from
Kricut Krazy
then you are in the right place!! If not, why not start from the beginning at
Creations By PinkE
. With mother's day quickly approaching you don't want to miss any of these crafty blogs for AWESOME inspiration to make something super special for all the MoM's in your life.
So, from here you're on to
Creations By Beulah
so you don't lose track! Thanks for joining me in PinkE's first Blog Hop!!
My project for todays hop is a very special one.
Mother's Day Card And Easel- Using Fancy Frames, and Flower Shoppe Cricut cartridges.
Lorraine
1. *PinkE: Creations By PinkE @
http://simplypinke.blogspot.com/
2. *Jessica: Creations By Rosie @
http://www.createbyrosie.blogspot.com
3. Tangee: Kricut Krazy @
http://www.kricutkrazy.com/
4. Lorraine: Card Creations by Lorraine @
http://cardcreationsbylorraine.blogspot.com/
5. GiGi: Creations By Beulah @
http://beulahscreations.blogspot.com/
6. Melissa: Stampin Voila @
http://melissastampingvoila.blogspot.com/
7. Susie: Susie Craft Happy @
http://www.susiecrafthappy.com/
8. Anjenic: AJ's Cards & Crafts @
http://anjenicgibson.blogspot.com/
9. Ian: A Newbie Crafter @
http://anewbiecrafter.blogspot.com/
10. Jenny @ Crazy About Cricut @
http://www.crazyaboutcricut.blogspot.com/
11. Melody @ Melodylane @
http://www.melodylanedesigns.blogspot.com/